Levorato Marcevaggi – Transports Service
Gas transport specialists since 1938, we are one of the major reference partners for Oil and Gas Companies
Logistic and Technical Provision
Since over 70 years we operate in the dangerous goods European road transport field, becoming today one of the bigger reference partners for Oil and Gas Companies.
The company is specialized in the transport and delivery of compressed, cryogenic and liquefied gases. Following the demand evolution indicated by the birth of new customers facilities, we consistently equipped new vehicles designed for new applications and different distances.
We provide a fleet made by over 250 vehicles located within the Company facilities in Europe and in Italy capable to face any necessities. Road tankers equipped of last generation meters which ensure continuous gas supplyat the gas stations. Road and intermodal tank container transport service for refrigerated and liquefied gases improve and complete our logistic structure.
At the forefront in the environmental sustainability issues, Levorato Marcevaggi extended its fleet with relevant investments in order to provide transport service
with LNG trailers

also thanks to international partnership.
Our gas transport services
23/1965 – 58000/59500 litres
Primary LPG depot to depot transport, and refinery to depot transport with high capacity trailers, and many other trailers with IMO approval for maritime transports.
23/1965 – 55000 litres
Service provided with trailers equipped with LPG electronic bulk meter.
23/1965 – 53000 litres
LPG ISO-tank Intermodal transport for rail and road transport services.
268/1005 – 48000 litres
Anhydrous Ammonia and Dimethylamine for chemical and agriculture industry.
23/1965 – Pallet
Palletized cylinders transportation service, depot to depot deliveries.
23/1965 – 15500/53000 litres
Service with tractors and trailers equipped with rear positioned bulk meters, for LPG home deliveriesused in agricultural, domestic and industrial areas.
22/2187 – 22/1977 – 22/1951
Refrigerated liquid transports such as carbon dioxide, nitrogen, argon, oxygen, for industrial and food and beverage utilizations.
ADR 223 – 1972 LNG Transport
Liquefied natural gas transport service used in automotive and combustion industries.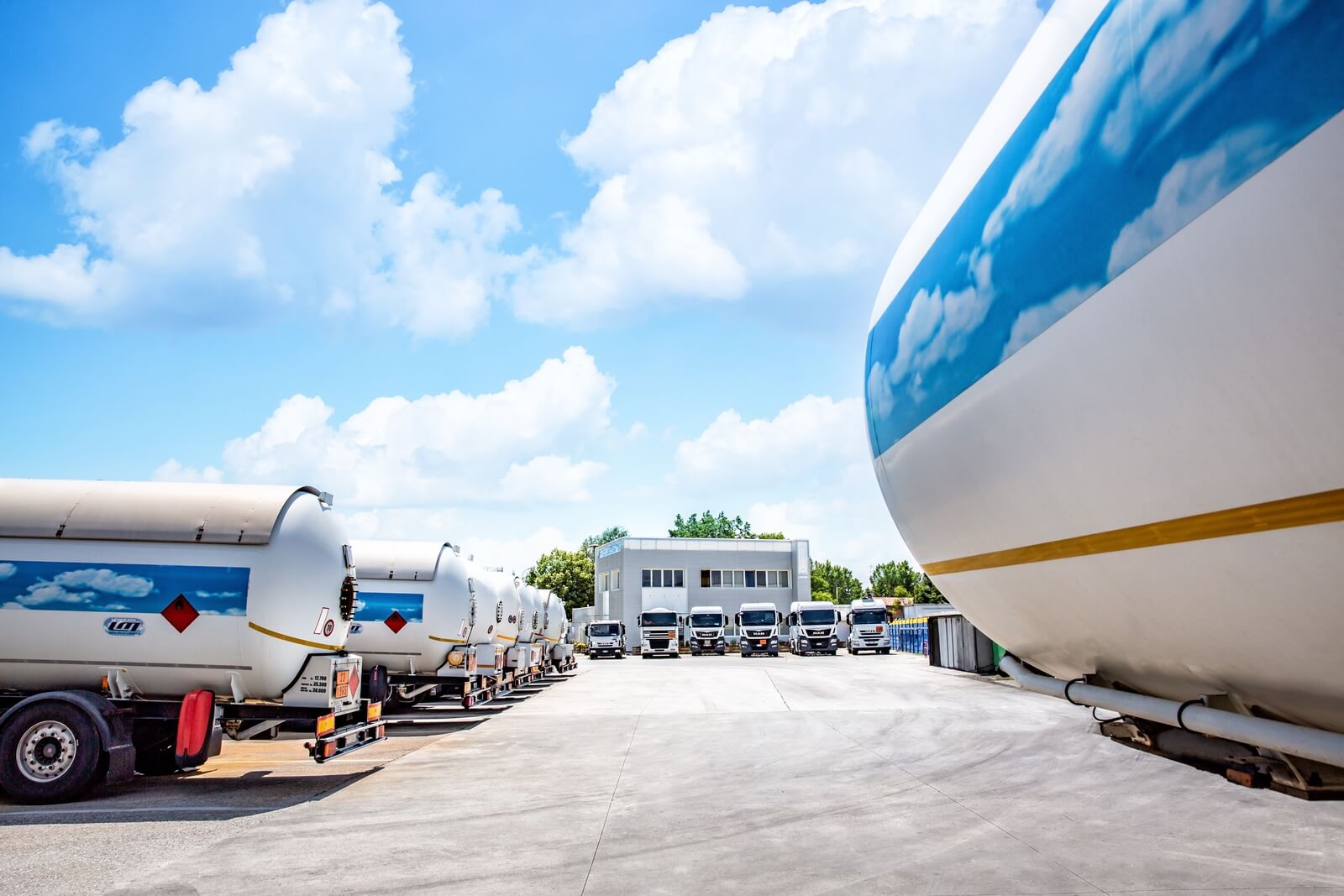 The punctuality in the execution of transports, the constant care to safety and enviromental matters, the experience within different loading and unloading procedure all over the European refineries and depots, the utmost care dedicated to the vehicle maintenance and to the recruit process of human resources, contributes to satisfy the needs of the supply chain of all the customers from different European places.
Brescia Headquarter
Brescia Headquarter
Via Belleguardello, 12
25010 Borgosatollo BS
Safety and sustainability in transports
Levorato Marcevaggi has been involved for several years in the development of specific actions concerning safety and sustainability for service offerings. For this reason, the company, based on its main principles select human resources and investments in infrastructure establishing a department which exclusively deals with these issues.
This sector is made by experts from the academic, mechanic, energetic and finally legislation world. A perfect mix of skills which guarantee a multidisciplinary team which deals with improvement plans and company investments.
The new projects of sustainability foresee the utilization of alternative fuels to be used for fleet transportation purposes, first of all LNG, alternative fuel which enables 20% reduction of the greenhouse effect gases (CO2) emissions.
First truck to ship lng fuelling in the port of Venice